A Guide To Choosing Tile Trim
15/02/2023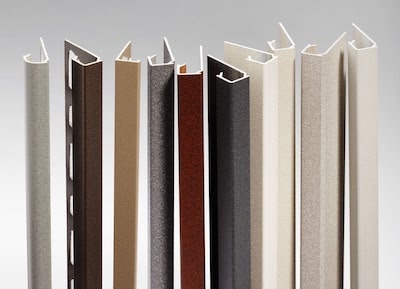 Have you found yourself endlessly looking for tile trim, going around in circles, and not knowing how to choose the best product for your job or project? Look no further, this guide to choosing tile trim will help you in selecting the right product at the right price for the job at hand. Adding those sophisticated finishing touches to a bathroom, wetroom, kitchen or even outdoor area is important, and having the correct tile trim can make all the difference to your completed project. Tiling is all about fine detail so you'll want to ensure you are choosing the right tile trim to finish off your work to the highest standard. Tile trim helps provide the perfect finish to your tiling job, not only for the aesthetic but also for the protection of the tiles to prevent damage. Below we'll highlight what you'll need to consider when choosing your tile trim.
Choose Your Material
Firstly, you'll need to choose the most suitable material for the job. One thing to consider when choosing your trim is the location you are tiling, as different areas will require different trims. For example, Stainless Steel is suitable for areas such as commercial kitchens, hospitals and external areas as these profiles offer resistance to principal chemical and atmospheric agents.
Metal trims are the most common type of trim for spaces that need a sleek, stylish finish. At Premium Tile Trim our selection of metal tile trims come in a wide range of profiles, colours and finishes. From brushed chrome to bright copper or matt black to beige, you'll be sure to find your perfect match no matter the job.
Alternatively, Plastic Tile Trim is the perfect way to neatly complete a tiling job by covering unfinished edges and sealing the tiling from water damage. Plastic tile trims offer a wealth of colour options, so you will always be able to find something to match your colour scheme.
Choose Your Price Point
Trims can vary a lot when it comes to price, which is something to keep in mind when selecting the finish most appropriate for your job. Varying from the most economical White Plastic Trim, to the most luxurious Antique Brass Tile Trim or the plush Swarovski Crystal Chrome Tile Trim. If you are tiling a large area this can seriously impact your overall costs, so should be taken into account when selecting and budgeting for a project. If you're having trouble working out your trim quantities, give us a call on 01604 439345 and our team is on hand with expert advice.
Choose Your Colour and Finish
When considering which tile trim to buy, you should consider the project's overall aesthetics and whether you want your trim to directly match the tiles exactly or whether you want a complimentary colour instead. The colour of your trim will make a big difference to the look of a finished job, and is something that can completely transform a room when paired with matching fixtures and fittings like taps or lighting.
At Premium Tile Trim we stock tile trim in various colours and finishes to suit any job, depending on your desired end look. Whether you're looking for shiny Gold Tile Trim or Brushed Stainless Steel Tile Trim, we can supply you with the perfect finish for your tiling project. However, if you are looking for a seamless finish, but cannot quite find the right colour, we are able to take requests for custom tile trim colours to directly match your tile colour. Get in touch with our team and we'll organise your tile sample to be matched to a powder coating so your tiles transition flawlessly into your tile trims, creating a sleek finish.
You will not be stuck for choice and variety here at Premium Tile Trim.
Choose Your Profile
Depending on the desired finish, there are a range of tile corner trim fittings to choose from. These fittings range from Round Edge Corners, Square Edge Corners, Triangular Edge Corners and Straight Edge Corners. These corner pieces make tiling around 2 or 3-way corners easy and look brilliant when fitted. The variety available means you can choose the profile that best suits your job.
Choose Your Size
Tile Trim comes in a range of sizes so you are able to choose the suitable size depending on the job requirements. With a range of sizes available you should ensure you are choosing a trim suitable for the size and depth of your chosen tiles. Choose from tile trim profiles from anywhere as low as 2mm, all the way to 50mm.
We offer a variety of options for all your tile trim needs so don't hesitate, explore our range now.